~ Crystal Dreams ~
~ Spiritual Growth and Healing Center ~
Gardena, CA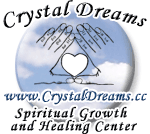 * Inside the Crystal Meditation *
Deb will take you through a guided meditation to help get you relaxed. Then we will take a journey Inside the Crystal.
There is a whole story behind this and I will try to touch on the specialness of this recording.
Inside the Crystal was created by my friend Shad. He is a scientist, an intuit, healer, musician and well so much more.
Shad has a great knowledge of Crystal Energy and has taken the vibrations of the healing energy and put the perfect tones on a soundtrack to bring this healing energy through sound to others.
Each tone was individually analyzed to determine its usefulness in terms of psychoenergetics.
Shad is amazing and receives many grants for his work. I just love his work and I know you will too.
Let us dance in another dimension for a while. It is a very positive and healing experience.
Come join us on this amazing journey.
Inside the Crystal, an hour long meditation
These synthesizer instrumentals use the actual sounds of Crystals and interactive Superquntum Tones (TM)
to relax, heal and enlighten.
Pre-Registration Required
You can either RSVP by phone with Deb 310-516-0727
If you would like to attend this workshop, but this date is not good for you...scroll down on this page and let us know what days and times are good for you. We all have busy schedules, so let us know what is best for you.
You can pay by credit card using our secure shopping or cart or if you prefer paypal or you can use the link below.
You can pay by money order or check by mail or pay cash at the store. See you soon!
Crystal Dreams
2913 "A" West 156th Street
Gardena, CA 90249
We offer a variety of courses.
Here are a few of the classes we teach. Let us know if you are interested in another subject, we can always invite someone to come in and do a lecture.
Reiki Healing Classes
We teach this both online and in person at the healing center.
If you want you initiation in person but you don't have the time to take a weekend class ask for your initiation in person and take the online course.
Ear Coning Course
Learn how to do an ear coning.
Focus on Crystals
Introduction to Crystal Basics - cleansing and programming your crystals
Crystals and Chakras
Using Crystals for Healing
Crystals and their Healing Energies
How to use a Pendulum
Blessing and Protecting your Home
Prosperity and Creating Abundance
Making Your Own Ceremonial Rattle
How to Make a Dream Catcher
Chakra Clearing
Color Therapy
Communicating with Angels
Meditation
Manifestation
Increase Your Psychic Awareness
Dream Interpretation
Blessing and Protecting your Home
smudging
Shielding and Setting Boundaries
Communicating with Angels
Psychic Protection
Practicing Reiki
Childrens Reiki Class
~*~ shopping ~*~
If you fill out the form below, you will be entered into a drawing for a free chakra clearing.
A drawing will be held on 1st of each month.
All information remains private!
I am hoping to have some pictures up of the healing center soon.
We are located at:
2913 "A" West 156th Street
Gardena, CA 90249
~*~ directions ~*~
This web site is a work in progress...I thank you for your patience and please feel free to call me if you have any questions. Warmly, Deb
Reiki Master Rev. Debbie Reasbeck (310) 516-0727
Links to other Crystal Dream Pages