Prices do not include shipping and handling costs.
All pendulums come with a suede like protective pouch.
International Orders require additional shipping costs, but are welcome.
You can click on/put all items in your cart that you like and then compare
them to see which you would like to purchase.

When ordering multiple items, you may request a cheaper shipping rate.
Add this as a note under comments on your order form.
You can use our secure online order form. You can also pay with Paypal ~ see Main Page for clickable link.
Pixie Pendulum (1" x 1/8")

Solid brass with a gold finish on a 3" gold chain with a gemstone of choice (listed below in the order of left to right). Good for private use at the marketplace. The gemstone at the end gives a real fine feel to your pendulum.
$27.95 each, plus shipping and handling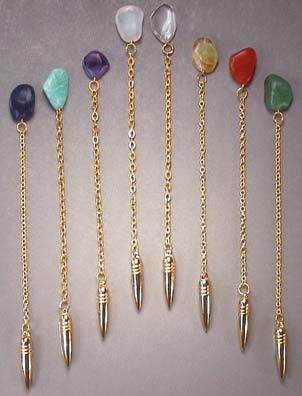 Light with Fast Response
Select a gemstone: Rose Quartz Clear Quartz Citrine Carnelian Aventurine
Chamber Pendulums

Chamber Pendulums(13/4" x 1")

Weighted with fine balance. solid brass with a screw top to inner 'witness' chamber and 5" chain.
Great for field work.
Chamber Pendulum Chrome--$34.95, plus shipping costs.
Chamber Pendulum Gold (color not shown) --$39.95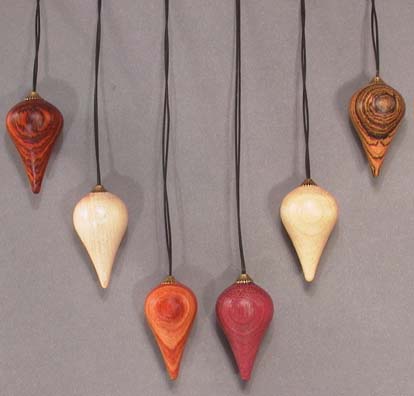 Wooden Pendulums approx. (17/8" x 7/8")
The finest in wooden pendulums with the tree essence. Ultra sensitive.

They come in a variety of beautiful exotic woods.
They have a very warm feel to them.
similar to the rainforest line
Wood Pendulums 40.00 each <
Crystal Pendulum (2" x 1/2")
Beautiful Austrian crystal with 4 inch silver chain.
I have one left in stock and then this item will be sold out.

Very Attractive with Wonderful Feel & Great Action. Crystal Pendulums--$29.95
Wonderful balanced light energy.
Back to my home page